Some people dream of becoming flight attendants but do not know where to start. To become a flight attendant, they must attend a flight attendant college to qualify for work as a cabin crew member. So, this article will give a brief about the top 20 institute in the U.S. which offers flight attendant courses.
What exactly is a flight attendant?
The cabin crew consists of flight attendants responsible for interacting with the passengers and giving them guidelines for their flight. They are responsible for making the passengers comfortable and giving details about the safety issues that must be followed during the flight.
Requirements for becoming a flight attendant
There is some prerequisite which is needed to be followed before becoming joining a flight attendant. Some of these are listed below:
The candidate must be 18 years old.
Should hold a medical certificate.
Must be a citizen of the U.S.
These are the major requirements other than that you need to check for the requirement of the particular college you are applying for. Now, after completing their education, students have to give interviews and get an FAA certificate to get a job as flight attendants. Now let's see what all colleges and institutes are there in the U.S. which provides flight attendant course.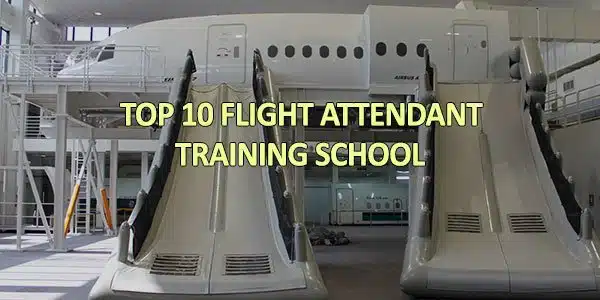 So Here is the list of the Top 10 Flight Attendant Training School in the United States
It provides a flight attendant program. The course includes internships at airports and volunteer services. In the course, students learn about skills associated with the role of a flight attendant.
Location: California, U.S.A
Cost of training: For non-California citizens $4000, and for California citizens $1300.
Program duration: 1 year
It provides a certificate course on the west coast, California. The OCC course is designed for flight attendant job roles and offers customer service training. Apart from this, the students will get a chance to get training in International Airports, mainly John Wayne Airport.
Location: California, U.S.A
Cost: The OCC certificate course will cost you around $2250
Program Duration: 1.5 years
It is one of the most renowned colleges in the U.S.A and provides multiple Aviation and flight attendant courses. All these courses have been operated since 1976. The people who have completed their courses from this university work in top airlines across America.
There are no such pre-requirements. But there are some specific things which are needed to be considered, like the height of the candidate should not be more than5 feet 9 inches. If the candidate's height is 5 feet 10 inches, they might be able to apply for employment.
Minimum Qualifications include:
The minimum age of the candidate must be 19.
Height should be not less than 5 feet; maximum, it can go to 6 feet.
Correct vision
No tattoos and piercings
Should have completed GED or high school.
Passport and citizenship of U.S.A.
No drug or Alcohol is allowed.
Location: California, U.S.A
Cost: The basic certificate will cost you around $900
Program duration: It lasts six months and goes up to 2 years. The duration depends on the education that you have completed.
Jetblue is the name of the airline known for providing the highest paying rates. If you can get into the hiring process and clear it, Jet blue will send the candidate to Boston, New York, or Massachusetts for training. This flight attendant program is available exclusively at JetBlue. A special feature of this program includes High payment, flexible scheduling, and travel benefits.
Location: Florida, U.S.A
Cost: No cost, stipend-based program. You will be provided with a stipend at the time of your training.
Program Duration: 4 weeks
The travel academy is located in Minnesota and provides online and on-campus training programs. It offers 4 Different flight attendant courses based on the student's requirement; they can enroll in any program. To enroll in these programs, the students must complete the following eligibility criteria:
High school completion certification or GED.
Fluent in English
Full vaccination and minimum age limit of 21 years.
Must be a citizen of the U.S.A.
Location: Minnesota, U.S.A
Duration of the Program: 300 hours
Fees: The total curse fees are around $8900, but students can apply for a scholarship of up to $1400, and the total amount payable after that is around $7400.
It is among the major airline training center in the U.S.A. It provides great incentives to its employees. Its training center is located in Florida. Its special feature includes health insurance and a generous stipend.
Location: Florida, U.S.A
Cost: $3995
Program Duration: It occurs in 2 phases. In the first online phase, based training is provided to the candidates, including theory for becoming a flight attendant. The second phase constitutes hands-on training, one week long, and the training is given at JetBlue University.
The Atlantic flight attendant academy is known for its high-ranked flight attendant program, which is around six weeks long. This program is designed keeping in mind the appropriate training and skills required for becoming the best flight attendant in the U.S.A. The classes go on weekdays from 9 to 3 p.m.
Location: Florida, U.S.A.
Total time duration: 180 hours
Fees: Students must give $100 as a part of registration fees which is non-refundable. The course fee for people living in America is $3996 and for international candidates is $4996.
It has been running for the past 40 years. It offers flight attendant courses for people living in America and also international students. Moreover, one special thing about this program is that students can enter any industry, like hotels, tourism, or even cruise lines, apart from the airlines. The classes are small, and financial aid is also provided to the students.
Location: Washington, U.S.A
Fees: Affordable tuition fees of $3000 along with it
Duration: It is a 20-week-long program. Along with-it proper placement assistance is provided by the institute.
This institute is situated in Baltimore and provides a 2-year-long certificate course in flying attendant. It is a one-credit course. To enroll in this program, the student must have to complete the minimum eligibility criteria given by the university, which are:
The height of the candidate should not be less than 4 feet 11 inches
The good overall health of the student
Good vision and should not have any facial piercings or visible tattoos
Cost:  $7100 for people living in Baltimore. Whereas for the outsiders, it's $1000.
Location: Maryland, U.S.A
Program Duration: 2 years
It is located in Palos Hills and provides a 2-year certificate associate course in flight attendant. It costs around $9636 for people living in the state. At the same time, those from outside have to pay 11,190 Dollars.
Location: Illinois, U.S.A
Qualification: Student must have completed their high school education with a minimum GPA of 3.2.
Comparing the Top 10 Flight Attendant Institutes in the U.S.A
Summing Up
Flight attendant is among the highest paying jobs all around the world. Being a flight attendant, you have to greet the passengers and help them on their onboard journey. It also includes giving appropriate instructions to the passengers about the location and properly utilizing safety instruments in the aircraft. To get a job as a flight attendant, you need to get an FAA certificate from any of the flight attendant institutes.
There are several top-notch flight attendant training schools in the U.S., some of which provide internships at the best airlines for health insurance. All differ by their course structure, duration, and program fees. Also, the location of the institute matters.  We have provided the details of the top 10 institutes in the U.S.A based on ranking in the U.S.A. Apart from this, there are other public universities people can enroll in to get a degree as a flight attendant.
You might want to see this: