All flight attendants are cabin crew, but not all cabin crews are flight attendants. Confused by this statement? A cabin crew is basically anyone who works on board an aircraft: pursers or senior flight attendants, flight attendants, and onboard chefs.
You may be planning to start your career as a cabin crew; however, you're confused about where to start. Before you apply to be a cabin crew, especially a flight attendant, you'll need to go through some important steps to prepare yourself for the job.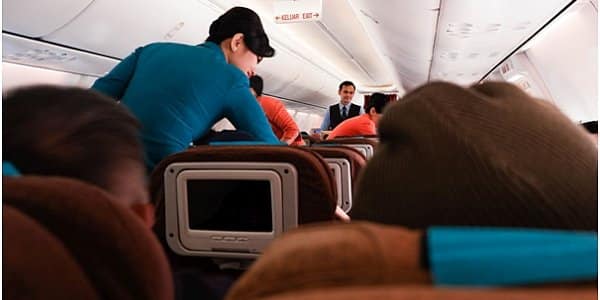 Here are the ten steps you'll need to follow if you want to start a career as a cabin crew. They may be daunting, but the ultimate result will make it all worth it for you.
Steps to Become a Cabin Crew
Although the process of becoming a cabin crew is extensive, they are easy to follow. You can learn to be a successful cabin crew with proper attention and practice, and you'll feel in your element soon.
Here are the steps you need to follow to become a cabin crew:
1. Gather the Requirements
Before you aim to apply for a position and get trained for it, you need to know what it needs to get into that position. For say, if you want to be an onboard chef, you'll need to have training from culinary school and carry proper knowledge of food science in order to serve fresh and tasty food to passengers on every flight.
You have to finish high school or be above twenty years old before applying, depending on where you're applying. You can ask about the application requirements from someone working in an airline in a similar position to the one you are about to apply for. Or, you can attend open days conducted by your preferred airlines to know their requirements.
Let's say you want to apply as a cabin crew for Etihad Airways; you can attend an Etihad cabin crew assessment day. You can learn about the requirements based on what you're applying for and what you need to do to get recruited.
2. Conduct Research for the Position
After gaining insights about the requirements, you need to conduct thorough research for the position. Research the steps you need to take in order to fulfill the requirements and secure the job and the physical fitness that you need to have for it.
Research the benefits and compensation that your desired job position provides. See what the minimum salary is, how many hours you need to work, what the working conditions are, and how flexible the work is for that position.
Applying as a cabin crew in an airline, especially as a flight attendant, has certain physical requirements. You have to be within a certain weight and height range to be able to reach the overhead bins easily and stand and walk comfortably. Your vision must be perfect and a 6/6, have no color deficiency, hear things perfectly, and be able to speak clearly.
It's better to prepare medical certifications for your health and fitness. You'll need those while applying for the job.
3. Gain Customer Service Experience
Experience in customer service is paramount to becoming a cabin crew, especially a flight attendant. You need to learn how to talk politely, practice the tone you'll be talking in, and always sound and look happy, positive, and influential.
You need to be well-trained to prepare yourself for certain situations, such as handling a difficult customer through negotiation. Besides, your words must be fluent, and your tone should have confidence.
As a flight attendant, you should be skilled at conflict resolution and display leadership qualities. You may need to resolve conflicts between your colleagues, a coworker, and a passenger or be able to control multiple passengers.
Also, you need to be able to work under pressure. There will be times when you need to calm down the passengers without losing yourself, and you may need to manage everyone in a situation of crisis.
4. Attend Courses on Being a Flight Attendant
Before starting your career as a cabin crew, you need to learn some essential skills and brush up on the existing ones. Flight attendant courses also teach about the types of aircraft you'll get to work in, how each one operates, and how you can serve on those flights.
Apprenticeship on cabin crew also has first aid courses, where you'll be trained to give first aid onboard when there's a medical emergency mid-air. You'll learn how to administer intravenous medicines, give respiratory therapies, operate an oxygen tank, and provide sutures and plasters when the need arises.
You'll also get mannerism courses where you'll learn about communication, crisis handling, having a helping approach, holding positive body language, etc. You'll learn how to handle and serve food and refreshments to your passengers. Besides, you'll receive training on how to identify potentially dangerous materials and handle a criminal suspect.
5. Maintain Physical Fitness and Posture
As a cabin crew, you must be physically fit, strong, and hold a good posture. You need to stand to optimize your features and execute confidence, and walk and move confidently so that the passengers can trust you and will be attentive towards you.
You should also know how to swim. This is important to ensure that you can guide the passengers across the water in case of a water crash or any other crisis above water.
Working out is essential for every flight attendant. One of the reasons is to carry luggage for passengers. However, there can be situations where you need to tie up a troublesome passenger as a last resort, which may require a lot of strength and effort from your end.
Flight attendants need to be on their feet wearing uncomfortable shoes most of the time, which is why you need to demonstrate great stamina. You need to appear proactive and should always be up to receiving passenger calls.
6. Practice Multitasking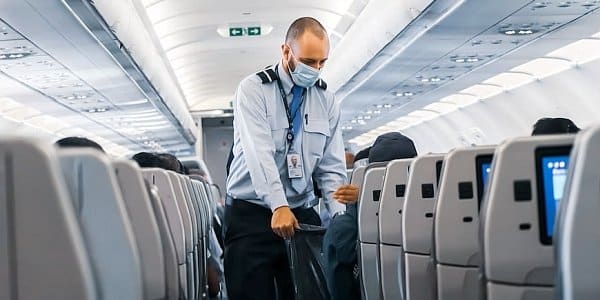 Whether you'll be working on a domestic flight or an international flight, you'll have to multitask a lot. You have to take care of the needs of all the passengers and have to take mental notes on who asked for what. They may have multiple types of needs, and you'll have to make sure that you don't miss anything at all.
And, of course, you have to handle everyone and everything with a calm mind, even when there's a crisis going on. You need to keep your mind active everywhere in these situations.
7. Get Some Good Pictures
Although some people may think it as overkill, having good pictures to apply with is crucial when you want to join an airline company. It doesn't just mean a smiling picture with your makeup done well.
Of course, those two elements need to be there. However, you need to dress up formally and make sure the colors aren't overpowering or too bright for the camera. Your posture should be confident, and your eyes should be beaming.
8. Prepare a Professional Resume
Just like every job, preparing a professional resume is crucial when applying for a position as a cabin crew. It should be well-written to display your language skills, the format should be clean and professional, and the picture you attach must be crisp and professional.
It should also contain all the proper information, your education and achievements, the courses you have completed to apply as a cabin crew, and your skills that will add value to the company. And if you have a Master's degree from a reputable institution, you may be in an advantageous position!
Don't forget the keywords the airlines use in their job description! And if you're multilingual, adding that will give you more advantage.
9. Dress Properly
A flight attendant should always be presentable, as the way you dress will create the first impression among a lot of your passengers. Your clothes should be ironed, clean, and crisp, and you should wear every article of clothing like a professional stylist.
Looks do matter if you want to work for an airline as you'll be representing the company and taking care of the passengers. Overwhelming scientific evidence suggests that if you look and feel confident about yourself, people will be more attracted to you and will be inclined to listen to you more.
10. Prepare Yourself to Face the Interview
The interview will definitely be a mix of formal and informal, and you'll have to go through a few rounds to ultimately get recruited as a cabin crew, especially as a flight attendant. You'll have to pass some physical examinations before moving on to the other rounds.
Before you apply for the job, practice answering interview questions. You need to talk about yourself within sixty seconds, shouldn't fumble or hesitate while speaking, and must be friendly and kind. You need to confidently display your language skills. And all throughout your interview, you need to hold good posture and body language.
The recruiters will also examine you in ways that you won't even realize you're being observed and scored. With proper practice, confidence, and being grounded and polite, you'll ace the interview and become a flight attendant!
Responsibilities of a Cabin Crew
A cabin crew has a number of responsibilities to carry out when boarding the plane every time. Here's a list of some of these responsibilities:
Clean the aircraft for the next flight;
Attend meetings before the flight to learn about your passengers and anyone with special needs;
Greet passengers as they're boarding;
Help them find their seats and store their luggage and handbags;
Instruct passengers on safety rules;
Ensure everyone has followed the pre-flight rules and all the overhead bins are secure;
Check if all the passengers have boarded;
Make in-flight announcements;
Serve passengers food and refreshments, ensure their comfort, and tend to their wants and needs;
Manage passengers in case of an emergency on-air;
Check flights and passengers in case of suspicious activities;
Help passengers safely get off the plane after the journey ends;
Prepare a report on the completed flight.
Conclusion
To be able to apply for the position of cabin crew, you need to go through a lot of steps and procedures. With confidence, professionalism, and being kind, grounded, and strong, you'll be on your way to pursuing your career as a cabin crew!
We hope that this article will help you understand the steps you need to take to start your career as a cabin crew. Be ready for pressure and multitasking, but also a lot of fun!