Vision is one of our main senses and its modern-day diseases and associated problems can only be solved when we visit an optometrist. For the people looking forward to becoming an optometrist searching for the right college can be a hectic task but this article has got this problem all covered up for you so that you can make the right choice for yourself according to your convenience.
Optometry is a rewarding and satisfactory career that would not let you down in your life. Practicing optometry in California is taken as a golden career line and has valuable practice facilities all over California. Optometry is a legislated profession in California and California Optometric Association (COA) works hard to keep the profession's practicing laws up to date and in regular check.
To diagnose, treat, and monitor patients with chronic illnesses like diabetes that can impair vision, more optometrists will be required. Many individuals are unaware that an eye examination is a quasi-method of peeking inside the body and identifying approximately 300 disorders. Being an aspiring optometrist you should be hopeful and work hard to achieve your optometry degree but first of all, you must choose the right college for yourself.
List of Top Optometry Schools in California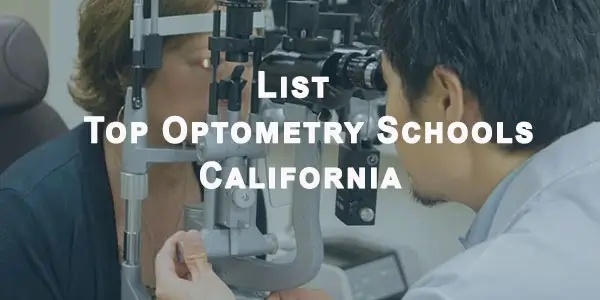 The following details are engulfed around all the main information about the top optometry colleges in California. Good medical college facilities can make the big change that you need for a better life ahead. All the important information related to the best college you need to choose for optometry in California is listed here for your convenience.
1. University Of California Berkeley School of Optometry
A public land grant research university founded in 1868 it is located in Berkley, California. Students interested in earning an optometry degree should consider the University of California Berkeley. In the most current data year, UC Berkeley awarded this degree to roughly 83 optometry students. The average early career income reported by students who have completed the optometry program is $74,750. Program accredited by Accreditation Council on Optometric Education (ACOE).
Your OAT scores are preferred but your MCAT, DAT, or GRE general exam is also acceptable. Also, complete your online OPTOMCas application. You also need to have a grade point average
of 3.0, letters of recommendation (LORs), and get through essays and interviews. All the Optometry course requirements are listed here.
Acceptance Rate: 27%
Financial Aid:
UC Berkeley believes optometry is a degree worth your investment and also helps students who are financially challenged to get through their studies smoothly. Students can avail of loans, apply for scholarships, apply for fellowships, or choose a fee reduction program. Official financial info link.
| | | | |
| --- | --- | --- | --- |
| Tuition Fee Summer CA Resident | Tuition Fee Summer Non-CA Resident | Tuition Fee CA Spring/Fall | Tuition Fee Non-CA Spring/Fall |
| $5,663 | $5,663 | $21,669 | $27,791.50 |
*These are the fee for 2022 as listed on the university website it is subject to change each year. For more tuition fee details click here.
For more UC Berkeley optometry info click here
2. Marshall B. Ketchum University-Southern California College of Optometry
Founded in 1904 and located in Fullerton, California The choice of Marshall B. Ketchum University is excellent for those seeking an optometry degree. The suburb of Fullerton is home to the relatively modest private, non-profit university known as MBKU. The institution has a special focus on the future of eyecare and advances in keeping their students equipped with up-to-date eye and vision healthcare studies. Its optometry college is accredited by the Accreditation Council on Optometric Education (ACOE) of the American Optometric Association.
To be admitted, you need to have a 3.51 average GPA, 310 OAT academic average, and 300 OAT total science. All the required prerequisites are listed here. In addition letter of recommendation is also required.
It is a private school with an acceptance rate of 18%.
Ketchum fully supports students through given them financial assistance when required. To apply you need to apply for FAFSA. There are student loans and scholarships which you can acquire listed at
| | |
| --- | --- |
| In-State Tuition Fee | Out-of-State Tuition Fee |
| $46,860 | $46,840 |
*These are the fee for 2021-22 as listed on the university website it is subject to change each year. For more tuition fee details click here.
For more info on Marshall B. Ketchum University-Southern California College of Optometry click here
3. Western University of Health Sciences College of Optometry
Founded in 1977 it is a private medical school located in Panama, California. Its optometry programs are accredited by the Accrediting Commission for Senior Colleges and Universities of the Western Association of Schools and Colleges (WASC) and it is also stamped accredited by Accreditation Council on Optometric Education (ACOE).
According to the university website for optometry, a competitive application should be having an overall GPA of 3.00, a Prerequisite GPA of 3.00, a Science GPA of 3.00, an Average OAT score of 300, Volunteering hours if any 300, and shadowing hours if any 300. All the prerequisite courses are listed here and detailed application requirements are listed here.
41%
Financial aid and applications are available. Students applying for the financial award must submit FAFSA. Other financial aids include scholarships and loans.
4. Loma Linda University School of Optometry
Founded in 1905 it is situated in Loma Linda California and is one of those institutes in California which excels in optometry and claims themselves leading in eyecare in the Inland Empire. At Loma Linda University it is believed to practice within a learning environment with the incorporation of health,
 science, and faith. It is accredited by the Western Association of Schools and Colleges (WASC) Senior College and University Commission (WSCUC; before January 1962, Western College Association) February 24, 1960.
All pre-requisites with a C or better, Letter of recommendation,  cumulative science/math GPA of 2.75, and Medical College Admission Test (MCAT) the recent 2022 average MCAT score was 509, and the average GPA was 3.83, You can find if your pre-requisites qualify or not over here.
It is a highly selective university with an acceptance rate of 35%
To apply for financial help, U.S. citizens and qualified non-citizens must complete the Free Application for Federal Student Aid (FAFSA). Most students who qualify for federal help will also be considered for Loma Linda University's need-based financial aid. Other than that grants, scholarships, and study loans are available. Lastly, the university also has a Federal Work Study program option.
| | |
| --- | --- |
| In-State Tuition Fee | Out-of-State Tuition Fee |
| $32,736 | $32,736 |
5. University of the Pacific
Founded in 1805 with its main campus in Stockton, California, and graduate campuses in San Francisco and Sacramento. Future optometrists can prepare for licensure and practice through the four-year doctor of optometry program offered by Pacific University. Our fundamental viewpoint on optometry education is unique. We think that people's success and enjoyment of life throughout their lives are rooted in their vision and eye health. It is fully accredited by the Northwest Commission on Colleges and Universities (NWCCU), and the Accreditation Council on Optometric Education (ACOE) of the American Optometric Association (AOA)
Verified OptomCAS application with supporting letters of evaluation, Valid OAT or GRE scores. The DAT and MCAT are also accepted, Pacific University OptomCAS GRE Code: 4571, and fulfillment of English proficiency.
79% as the school is lightly selective.
About 20 scholarships for first-year optometry students will be given out by the Pacific University College of Optometry. Our Dean's Merit Award ($15,000 over three years), Dean's Scholarships ($5,000
towards first-year tuition), and other awards between $1,000 and $5,000 are among the available financial aid. Other than that many more loans, scholarships, and federal grants are also available.
| | |
| --- | --- |
| In-State Tuition Fee | Out-of-State Tuition Fee |
| $46,464 | $46,464 |
*Latest update: October 11, 2022, as mentioned on the university website.
6. UC San Francisco School of Medicine
The University of California, San Francisco (UCSF) School of Medicine is the university's medical school, and it is situated on the Parnassus Heights campus in San Francisco, California, at the foot of Mount Sutro. It is the oldest medical school in California and the western United States, having been established in 1864 by Hugh Toland. It is accredited by Accreditation Council for Continuing Medical Education (ACCME) and the California State Board of Optometry.
Doctor of Optometry (O.D.) degree from an ACOE-accredited school or college of optometry, Minimum cumulative GPA 3.00 (on a 4.00 scale) in their optometry professional curriculum, Completed and passed NBEO part I, part II, and TMOD examinations before the ORMatch date, Applicants must satisfy all requirements to be eligible for California licensure. This includes successful completion of NBEO Part III and passing the California law exam administered through the state board. International candidates must be eligible for an OPT visa.
At just 2.6 percent, UCSF Medical School's acceptance rate is low
Firstly one must apply for FAFSA, You can also apply for UCSF financial funding which accommodates basic funding, full funding, and Non-UCSF Funding as well, You can also apply for a CSS profile and there are student loan options as well.
| | | | | |
| --- | --- | --- | --- | --- |
| | Annual | Fall | Winter | Spring |
| California | $42,719 | $14,291 | $14,250 | $14,250 |
| Non-California | $55,036 | $18,373 | $18,322 | $18,331 |
7. California State University College of Health and Human Development
A public university system in California founded in 1857 is called the California State University. The CSU is the largest public university system in the country, housing 55,909 faculty and staff members across 23 campuses and eight off-campus centers, enrolling 485,550 students. It is accredited by California State University is accredited by ​the WASC Senior College and University Commission (WSCUC).
Clear OAT, good GPA mean GPA was 3.4 for admitted students, Preferably with a bachelor's from an accredited university, Prerequisites for general courses (minimum of 135 quarter units required before enrollment, minimum of three years of pre-optometric study): general physics with lab, one year of English, one year of general chemistry with lab, one year of general biology with lab, and one year of organic chemistry with lab, Calculus\statistics, Biochemistry \microbiology, Anatomy, Cellular physiology, and Psychology. Also clear OPTOMCas.
Less selective with a 91% acceptance rate.
Department-wise financial aid facilities are available. To explore health sciences-optometry click here. Several scholarships, loans, and funds are available for financially challenged students.
Set by the Board of Trustees, systemwide tuition is charged at the same rate per academic year at each CSU campus.
| | |
| --- | --- |
| In-State Tuition Fee | Out-of-State Tuition Fee |
| $29,208 | $38,712 |
Steps to become an optometrist in California
Graduate from an optometry program with accreditation.
The California Laws and Regulations exam with flying colors (CLRE).
Take and pass the NBEO test (National Board of Examiners in Optometry).
Parts I, II, and III of the NBEO test, as well as the Treatment and Management of Ocular Disease (TMOD) section, must be passed to be eligible for licensure.
Then lastly you can apply to get a license to practice optometry in California after passing each component of the NBEO test and the CLRE.
Golden Rules of Practicing Optometry in California
One must knoiw what are the laws of the state in which they need to practice. There are soome dos and donts which you need to follow to practice in California. The California Optometric Association (COA) and optometrists have worked hard to broaden the scope of practise laws for the profession, but there is always room for improvement. Here is a quick summary of what Californian optometrists can and cannot accomplish.
Optometrists in California CAN:
Identify and manage glaucoma (except angle closure glaucoma and persons under 18 years of age)
Utilize topical remedies (including steroids and antivirals)
Usage oral medicines, such as hydrocodone/codeine (use limited to 3 days) and oral acyclovir.
Prescribe drugs from Schedules II (only hydrocone compounds) and III.
Apply cultures when scraping the cornea
Perform corneal epithelial debridement
Lacrimal irrigation and dilation should be done.
Patients who may have diabetic retinopathy should receive oral fluorescein.
Order the necessary tests for the identification of illnesses or diseases of the eye or adnexa, including X-rays, smears, cultures, complete blood counts, acid fast stains, urinalysis, and tear fluid analysis.
Only administer shots for anaphylaxis.
In California, optometrists ARE NOT ALLOWED TO:
Remove foreign bodies with scalpels or needles.
Administer injections.
Apply lasers (YAG, LASIK etc.).
Perform nasal and lacrimal tract probing.
Can Optometrists Practice Surgery in California
Californa passed a historic bill allowing optometric surgery in September, 2022. Sacramento-Last week, the California Assembly gave final approval to Bill AB 2236, which would have increased the scope of practise for optometrists in the state to include performing optometric surgery.
The bill's passage would enable California's almost 7,000 ODs to explore laser operations, lesion excision, various types of injections, and corneal crosslinking, as first reported by Review of Optometry.
If approved by Governor Newsom, it will take approximately two years to implement and take effect on January 1, 2023.
The next step towards California becoming the eleventh state to include lasers in the scope of practise for optometry will be the governor's signature, which is anticipated within the next 30 days.
FAQs
How long is optometry school in California?
It takes four years. A four-year academic program called the Doctor of Optometry equips graduates to provide modern eye, vision, and health care as vital members of the primary care health team.
Is California a one-door state or two-door state?
The independent OD and the retailer's optical department must be professionally and physically separated in a two-door state. California state has a two-door policy for corporate optometric practices, according to a Jobson research.
Is optometry a 4-year course?
Yes, All of the clinical and practical parts of optometry as well as the theoretical and foundational facets of vision science are covered in the four-year professional optometry curriculum.
What is the optometry school acceptance rate in California?
All optometry schools have variable acceptance rates from 10%-75%.
Are optometrists in demand in the US?
Between 2021 and 2031, the Bureau of Labor Statistics predicts a 9.6% increase in employment for optometrists. During that time, 4,000 jobs should become available.
Can an optometrist become a Doctor?
An optometrist can become an ophthalmologist, but the transfer takes time. An optometrist has previously completed the requirements to obtain an optometry degree (OD).
An optometrist must complete an MD or Ph.D. program, a three-year residency, and a one-year internship to become an ophthalmologist.
Ideally, a person interested in this field should concentrate on that educational track as soon as they begin their graduate studies.
How much money do optometrists make in California?
As of January 26, 2023, the average pay for an optometrist in California is $152,214, but the range is normally between $134,757 and $168,609. According to a survey by salary.com.
You might want to see this: