As we know that technology is advancing at a very faster pace and to cope with that, top companies and intuitions require more professionals from various educational backgrounds and skills, but to highlight the most about which career to pursue, so according to Forbes, those who have bachelors in computer science degree has had an average salary of more than $70,000 US dollars, in addition to that the U.S. Bureau of Labor Statistics reports that employment in computer science occupations is set to grow 12% through 2028 — much faster than the average industry.
Therefore top undergrad computer science programs are our priority to highlight all around in United states for local and international students before taking any further step towards their career selection.
Rushing to the best undergrad computer science schools isn't the greatest approach; instead, pick the program you want to attend first, and then figure out which institution is the best fit for your chosen program.
So here are the Most Common bachelors in computer science programs
You may anticipate starting your computer science degree by laying a foundation in fundamental computer science subjects.
Few are the core Top Undergrad Computer Science Programs.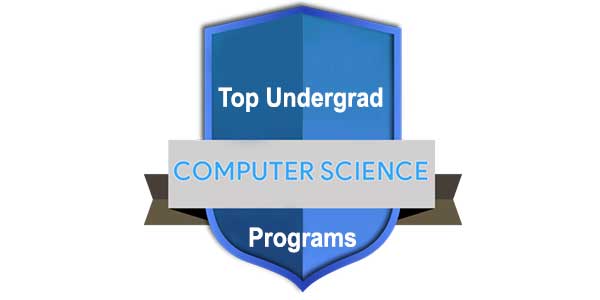 Computer Architecture and Engineering
Feedback Control Systems
Analog Integrated Circuits
Software Engineering
Introduction to Algorithms
Fundamentals of Programming
Elements of Software Construction
Communication Networks
Computer Graphics Research
Neural Computation
Numerical Algorithms and Implementation
Object Orientation Programming
Systems and Networks
Data Input/Manipulation
Programming Language Semantics
Artificial Intelligence: Representation and Problem-Solving
Discrete Mathematics for Computer Science
Computing Hardware
Parallel Computing
Hardware Accelerators for Machine Learning
Mining Massive Data Sets
Computability and Logic
More: Best Accounting Programs in the US
Let's take a closer look at a few of the most trending programs
Programming language theory
Programming is a multidisciplinary discipline that includes aspects of mathematics, software engineering, and languages. Programming language theory examines the design, implementation, analysis, characterization, and categorization of programming languages as well as their particular characteristics.
Knowledge of more than one will help you to better understand their individual strengths and weaknesses, which will, in turn, help you to better engage with the challenges addressed by programming language theory. You'll cover topics such as syntax, natural semantics, structural operational semantics, and abstract machine code.
Artificial intelligence
Artificial intelligence (AI) and artificial life (AL) are closely linked fields that use computers and algorithms to synthesize goal-oriented activities including problem-solving, decision-making, environmental adaptability, learning, and communication.
Artificial intelligence, on the other hand, utilizes systems to generate particular behaviors in machines and software. While artificial life investigates systems and the complex behaviors that arise from them, artificial intelligence uses systems to develop specific behaviors in machines and software.
Algorithms
Algorithms are a step-by-step procedure for making calculations, used in data processing and automated reasoning – this creates an output that is often, but not always, predictable.
Data structures
Data structures provide a way of storing and organizing data in a computer so it can be used efficiently – different kinds of data structures are suited to different kinds of applications and may be highly specialized to specific tasks.
Computer Graphics Research
Using computers to produce static or moving two or three-dimensional pictures using specialized graphics hardware and software is what computer graphics is all about. You'll learn how to use computational tools to alter visual and geometric data, with a focus on the mathematical and computational foundations of image production and processing rather than merely aesthetic concerns.
You'll need to be familiar with physics, light, and materials, as well as the mathematics of homogeneous matrices, as well as data storage, representation, and manipulation. Computer graphics make it simple for both computing experts and consumers to engage with and comprehend computers, as well as to analyze data.
Duration of Bachelors in Computer science degree in USA
Normally it takes at least four years, split into 8 semesters to complete an undergraduate degree, however, the duration of each program depends on a university and the program you choose.
What can you do if you have a bachelor's degree in computer science?
Bachelor's degree in computer science is an entry to different aspects of technological degrees, according to statics from the Bureau of Labor Statistics, most of the bachelors in computer science choose for the specialized program in the computer science field as a Master/graduate degree.
Here are the topmost specialized career
Software Publishing
Computer Systems Design
Robotics
Data Sciences
What can you expect after having a graduate degree in computer science?
| | |
| --- | --- |
| Profession | Expected salary |
| Computer and information research scientists | $124,520 |
| Software Publishers | $136,190 |
| Computer science teachers | $81,240. |
| | |