Most of the time students in their graduation years or as soon as they are about to start any other program in university educational costs in real-time hit them like a bomb and make them tumble off as they stand unguarded. To carry on with their university studies without any constraints students like to benefit from financial aid so that they can carry on with their studies free from worries.
Not all families are built equally financially strong and some may face sudden financial crises or such situations which lead to their finances being cut down to such an extent that they can no longer pay tuition and other fees. In this case, if they are lucky enough to get admission to the prestigious NYU but are financially challenged there are several ways to deal with their financial constraints and carry on with their studies.
Types of NYU Financial Aid as Per Program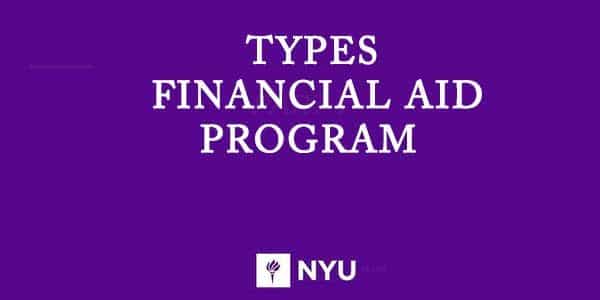 As NYU claims to be an institution where no student will face constraints in their studies due to financial constraints, it has several programs lined up which have financial aid facilitation and make the students' life at NYU easier for them.
Scholarships and Grants
These are one of the most sought-after financial aid by a student because unlike loans one does not need to pay them off. At NYU several scholarships and grant options are available which lead to the students receiving financial aid packages that help them overcome their academic financial constraints.
1. New York University Scholarships
First up we have scholarships for undergraduate and graduate students that can give you a full fledge or some quarter of your fees off so you can better afford your semester if you are from a financially challenged background.
Secondly, we have September 11 Scholarships which are only for the ones related to those involved in the 911 attacks at the world trade center. This facilitates students with their tuition fees, registration fees, and rooms/onboardings.
2. Federal Grant Programs
Federal Grant Programs are another option that can be useful for students who comply with the requirements of the federal financial aid programs.
This first up is Federal PELL Grant and you also need to complete FAFSA for this.
Teacher Education Assistance for College and Higher Education (TEACH) Grant is a type of grant for students who are looking to teach in secondary and elementary schools that serve low-income families. Up to $3772 per year can be given to students for TEACH grants.
Federal Supplemental Education Opportunity Grants (FSEOG) is another useful grant in which financially challenged students are automatically registered if they have all the exceptional financial need requirements.
Veterans Benefit is a grant given to students related to people serving in the U.S. Army. For this students must be related/spouses of someone serving or who has served in the US armed forces.
3. State Scholarships and Grants
New York State Tuition Assistance Program (TAP) is for every NY resident enrolled in full-time or part-time degree programs.
Aid for Part-Time Study (APTS) facilitates all the NY residents who are hustling to achieve a part-time undergraduate degree and can get facilitation of $2,000 per year. One important thing is that you must be present for 3 to 11 term credit hours.
4. Additional New York State Scholarships and Grants
This is a category that keeps updating each year on the New York State Scholarships and you must have a check on the official link each year to keep a check on the New York Higher Education Services Corporation (NYESC).
5. Scholarships and Grants from Other Organizations
Many unions, organizations, and funds also give grants and scholarships for students applying to NYU so you can keep a check on these special interests grant and scholarship programs, and you may also participate in National Scholarship Competitions.
6. Federal Loans
NYU in collaboration with the U.S. Department of Education provides several loans to students to help them with their financial challenges. Unlike scholarships, one has to pay back their loans once they have a stable job during or after graduation with minimum interest rates.
According to your eligibility, you are provided with a loan which is suggested and that is also the maximum amount of loan which you can borrow. You can choose to select a lesser amount than the suggested amount but not more than that.
7. Federal Direct Loan
The U.S department of education offers some loans directly to students which include Direct Subsidized, Direct Unsubsidized, Parent PLUS, and Graduate PLUS loans.
All students who fulfill the eligibility criteria can apply easily at their respective departments.
To apply, do not forget to fill out the FAFSA.
8. Federal Nursing Student Loan
For all nursing college students it can be availed halfway through the studies without having to pay for it and after that, it has to be paid with a 5% interest rate.
You need to sign the promissory note available and read the terms carefully to sign off the process at NYU Albert. You need to be enrolled for at least half the time in the nursing school to avail of these loans and also need to apply for https://studentaid.gov/h/apply-for-aid/fafsaFAFSA.
9. Health Professions Student Loan Program
You need to be a full-time enrolled student in the health professionals programs at NYU to avail of this loan at a 5% interest rate and you need to sign its promissory note at NYU Albert and read all the process and details over there as well before signing the promissory note.
Students who are financially needy and are full-time enrolled in NYU medical and dentistry college and do not forget to apply for FAFSA beforehand to avail of this loan.
To know about the students living outside of the state or abroad then there are a bit different steps to follow to get aid.
How Much Loans You Can Borrow
There is a loan limit on which you can borrow from federal loans both Direct Subsidized and Direct Unsubsidized Loans. Your loan limit is dependent upon factors like:
The school to which you belong
You are a dependent student or an independent student?
If you receive a red flag from FAFSA that you are over your loan limit then your history will be reviewed and after three weeks it will be decided if you will continue to receive the loan or about the charges which you will have to pay.
There will be three types of statuses as a result of your loan history inquiry:
SOME: This means you are clear of any charges and will continue to get loans.
DONE: This means you have received all the loans in your limit and you are no longer eligible to receive loans but still you may have access to some other types of federal financial aid.
OVER: This means you have exceeded your loan limit and you are liable to pay your charges you will remain ineligible to receive any further federal aid assistance until you have not repaid your loan charges.
What To Do If you Reach your Loan Limit
Now when you reach your loan limit you will have to switch gears and follow a considerate way to achieve a stable position again.
Repay your loans or make payment arrangements
Consolidate your loans
Sign a reaffirmation letter
Click here to find out more about NYU Federal loans per program
Student Employment
U.S. Federal Work-Study (New York campus only)
To overcome financial constraints to pay for their university fees the students can also sign up for a work-study mode in which they might be facilitated according to their eligibility to get paid for the work they do. With fifteen to twenty hours each week, you will a bi-weekly pay.
How to Apply for the Work-Study Job
New York
You can search and select the job which suits your program at Wasserman Center For Career Development. Jobs might be available for you but there is no set guarantee that the job which you exactly are eligible for is available at the moment or not.
Abu Dhabi and Shanghai
There may be on-campus jobs (nonfederal) available at our Abu Dhabi and Shanghai campuses:
NYU Abu Dhabi Career Development
Email: nyuad.career@nyu.edu
Phone: +971-2-628-4141
NYU Shanghai Career Development
Email: shanghai.careerdevelopment@nyu.edu
Phone: 021-20595300
Frequently Asked Questions
How aid is awarded?
You should submit a financial aid application regardless of your financial position. Students who submit their paperwork on time are eligible for full financial aid from NYU, which is calculated based on your estimated family contribution and the data you provide on the CSS Profile. They also consider a family's eligibility for federal, state, and student employment grants when determining how much assistance they need.
What is the cost of attendance at NYU?
College is expensive. However, when considering investments, one of the finest areas to get a good return on your money is education. Recent NYU graduates with a BS or BA earn, on average, $64,895 annually. This places NYU in the top 9% of institutions that offer the best returns on your educational investment, according to Payscale.com.
While a significant percentage of your costs at NYU will be tuition and room and board, you will also need to plan for things like books, supplies, and transportation.
Click here to see the details of NYU New York campus cost of attendance
Click here to see details of NYU Shanghai campus cost of attendance
Click here to see details of NYU Abu Dhabi campus's cost of attendance
How does financial aid work for graduate students?
Your financial assistance information as a graduate student at New York University will mostly come from the institution you're enrolled in. Regarding deadlines for university scholarship consideration and other financial help unique to the program to which you are applying, you should directly contact your program or institution.
Apply for FAFSA on time suggested filling date is May 1st. As a result, you might get unsubsidized and Graduate PLUS loans or get a federal work-study opportunity.
What is the best time to call the office of financial aid at NYU?
The phone lines at the Office of Financial Aid at NYU can get very busy at various times of the academic year. These intervals consist of:
1 April to 15 May
1 July to 15 August
During registration season
The best times to contact the financial aid office the rest of the year include:
Tuesday or Thursday between the hours of 10 AM and 11 AM or 3:30 PM and 4 PM
For basic information regarding your award or the status of your financial aid application, it is advised to utilize NYU Albert. In addition, emailing can be used in place of calling.
New York Campus
Email: financial.aid@nyu.edu
Phone: 212-998-4444
Fax: 212-995-4661
Abu Dhabi Campus
Email: nyuad.financial.support@nyu.edu
Phone: 212-998-4488 (US), +971 02 628 5513 (UAE)
Shanghai Campus
Email: shanghai.financial.support@nyu.edu
Phone: 212-998-2838
What are graduate assistantships?
In some schools and selected programs, graduate students can apply for assistantships or teaching fellowships. Tuition is waived in exchange for an assistantship or teaching fellowship, as well as a stipend.
You will be expected to teach, conduct research, and participate in other tasks that are necessary for the department as an assistant or fellow. To learn more about applying for a fellowship or an assistantship, you should speak with your department directly. To get into it contact your respective programs or departments office of financial aid.
You might want to see this:
Disclaimer: All information, including grants and dates with the type of assistance, was collected from the official NYU website; however, the information may not be true for a variety of reasons, including the fact that a lot of time has passed since you are reading this and when we published this. In addition to that, while you are reading, NYU amended the terms of its aid.